BlueRithm is designed for both contractors and commissioning firms who install and test equipment, machines, or systems.
With BlueRithm you can:
View snapshots of your data at the organization and project levels.
Manage workflows and processes.
Track and manage critical details and information.
Show value, professionalism, and a high degree of quality control to your customers.
Avoid rework & rechecking completed activities.
Allow high levels of collaboration among your project teams, subcontractors, and customers.
Assign work, issues, and tasks to your team as well as guest users from other companies. You can add unlimited guest users to your account.
Store and easily access project files and images.
Reduce time you and your teams spend in meetings.
Streamline project closeout.
Reduce paperwork.
Automatically generate completion (and other) reports.
For HVAC controls projects, pull a BACnet building automation system into BlueRithm to easily build-out and configure your project (coming soon).
Get your team up and running on BlueRithm FAST due to an intuitive and simple design and layout.
---
Quickly view the status of your organization's operations, each of your projects, and view detailed information about each of the systems, punch list items, and issues within those projects with dashboards, analytics, and key metrics.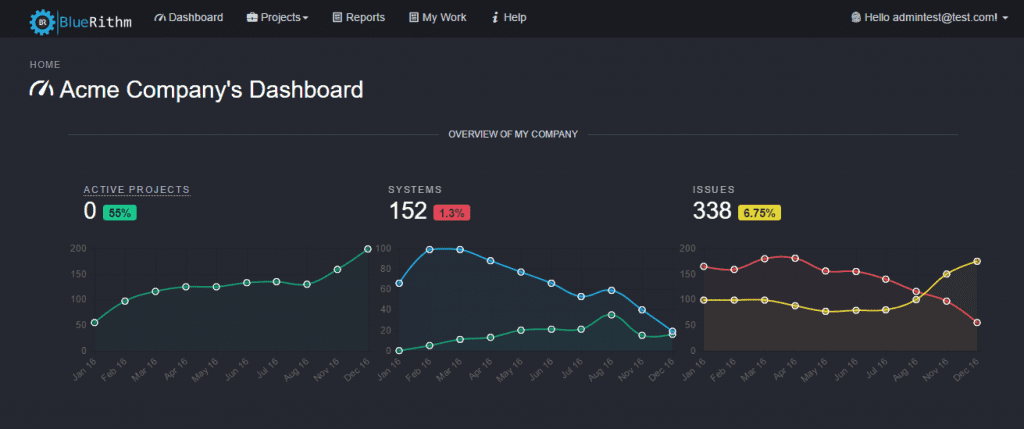 ---
Metrics and analytics are available at the project-level, system-level, and beyond as well.
All of the information you need about your project is easily accessible and where you expect it to be.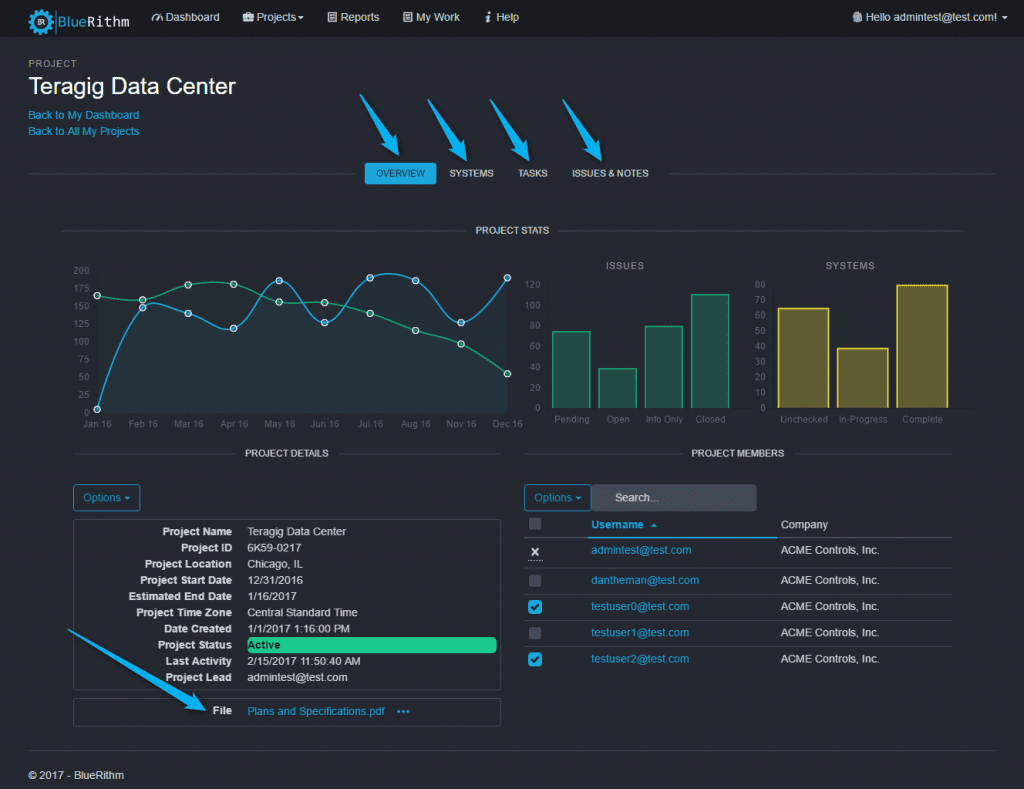 ---
Organize your projects in folders that you can infinitely customize, with an unlimited number of hierarchy levels for floors, areas, groups of equipment, etc.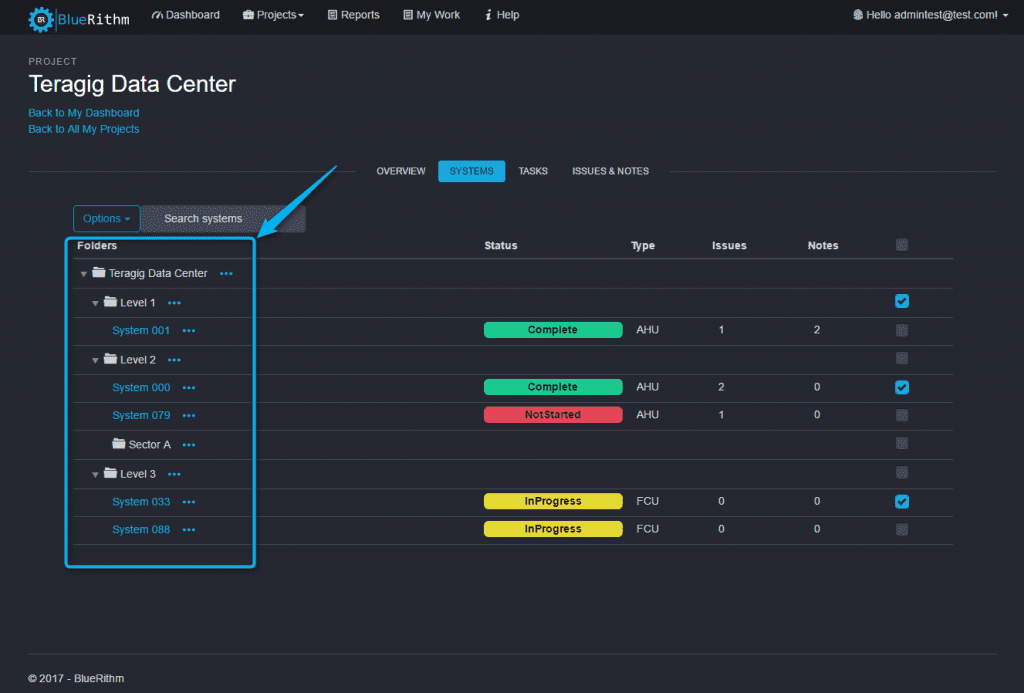 ---
Create Tasks, Notes, and Issues, and associate each with a Project, a System, Subitem, team members, etc..
The "My Work" view simply and easily displays everything entered by, or assigned to a user. This allows quick access to the information each person on your team needs, so they can focus on the work that needs to be done.
The information can be sorted and filtered by key variables, like the status of each item, what each item is associated with, and when it was entered.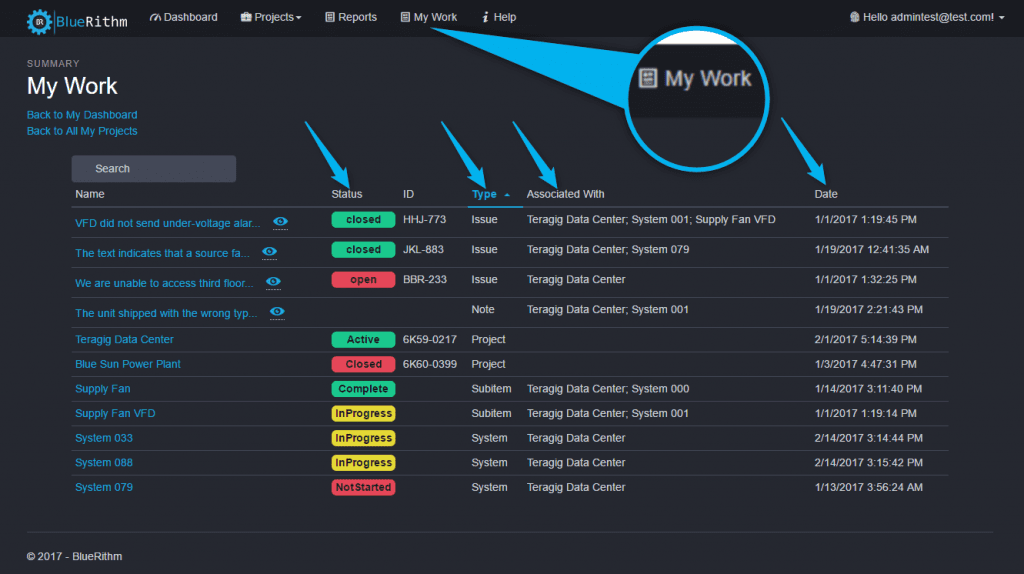 ---
Issue management is made simple by allowing guest users from outside your organization to join as guests, and directly respond to Issues that are assigned to them. Pictures and any other file types can be attached to the Issue and each response.
Issue statuses are automatically updated when an assigned respondent replies to the Issue, and notifications are sent to each party.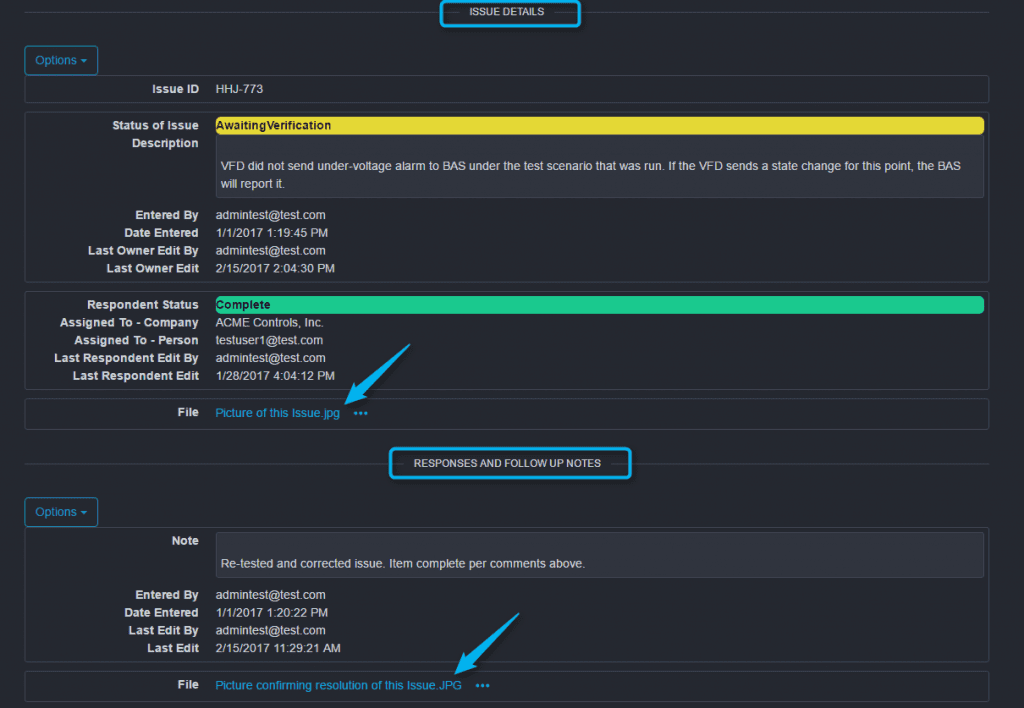 ---
Generate professional reports with your company's logo. Issue reports, completion reports, summary reports, status reports, are available with a few clicks.
---
You can add subitems to systems to keep track of components of equipment and systems ( such as motors, belts, VFD's, etc. on an air handling unit; individual circuits or breakers on switchgear; data outlets in a room or area; control system or building automation system points / sensors / inputs & outputs; or really anything that you need to track and manage).
Subitems can also have issues, notes and tasks associated with them directly.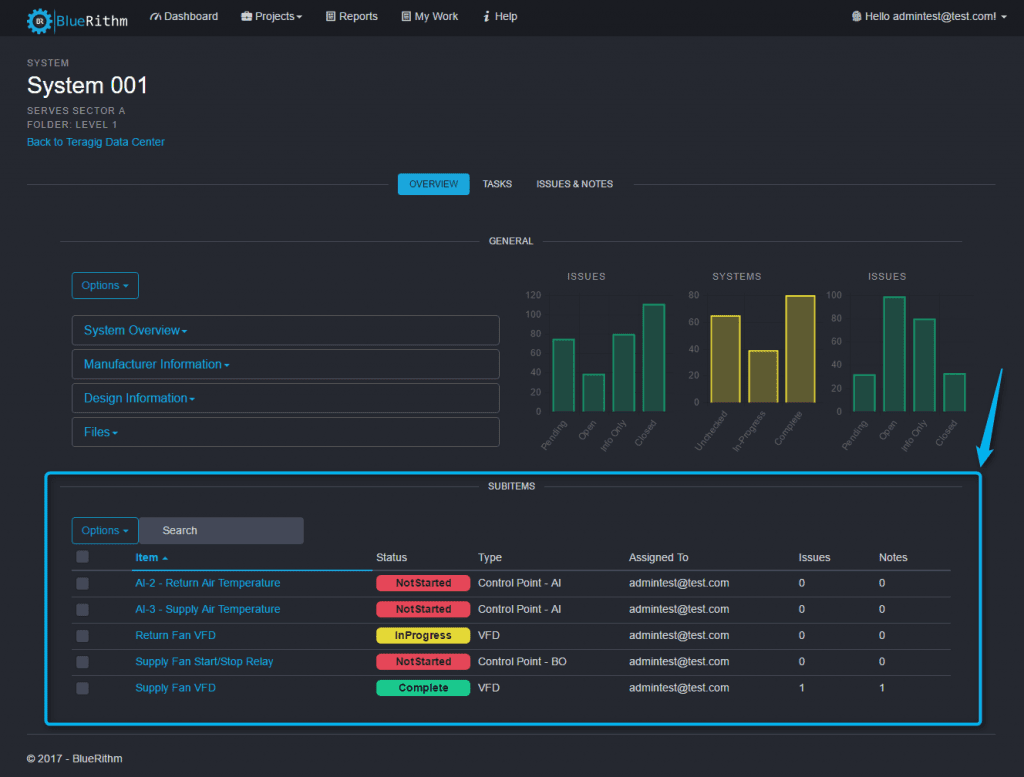 ---
Keep everyone on the same page with streamlined and easy access to all your project notes and issues in one place. Issues, Notes, and Tasks are aggregated a the Project level for all Systems and Subitems for the Project, and at the System level for a System and its Subitems. So no matter where you look, the information you expect to find will be there.
Lighting fast searches and filtering ensure you also don't waste time looking for the information you need right now.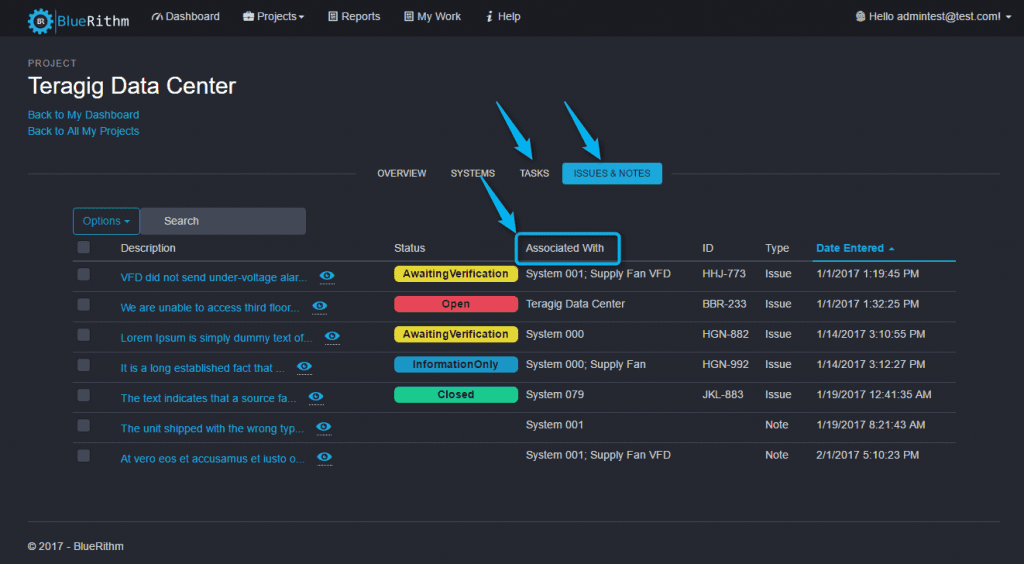 ---
Capture photos directly from the application from a mobile device or PC, and attach them to Issues, Notes, Systems, or Projects.
Other file types can be added and associated at the same levels as well. Everything your team needs can be kept securely and conveniently in one place, and the files will be where you expect them to be – with the Project, System, or other item they're associated with.
You can also quickly grab files from your other apps, like your cloud storage services.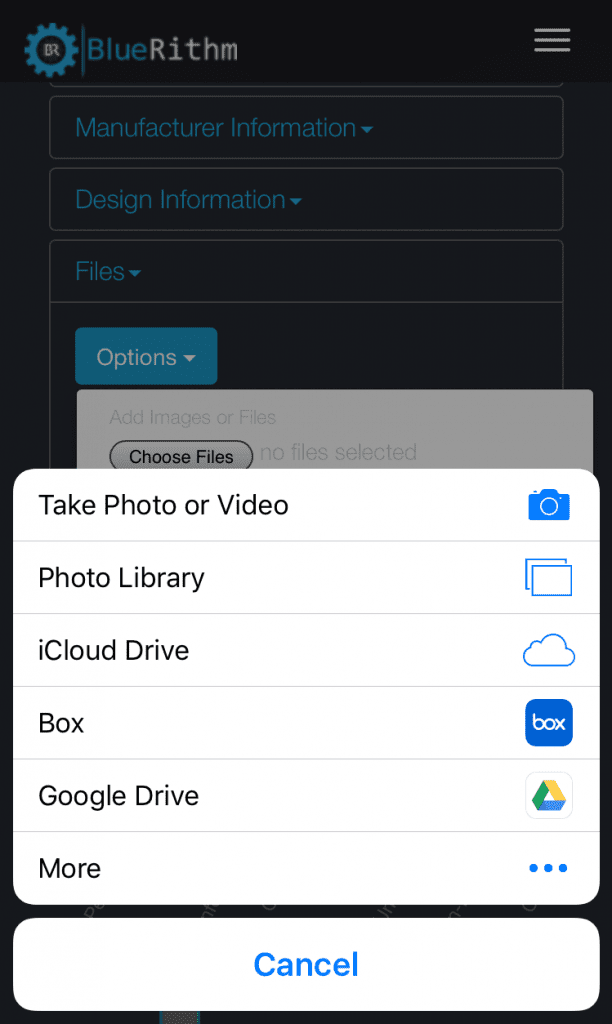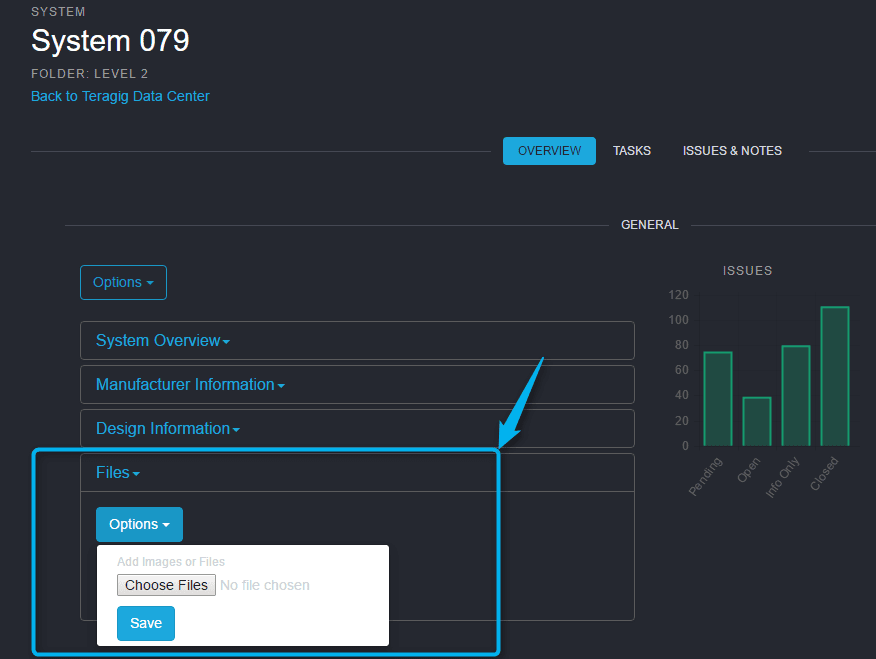 ---
Quickly set up large projects with configuration sheets designed for speed and convenience.
---
BlueRithm can increase your entire team's confidence and efficiency in managing your projects from installation planning through final sign off. It will give you the control you need to make precise and actionable decisions, maintain a high level of accuracy and quality, and ultimately save you time and money.
 Contact us today to try BlueRithm for free, or for more information.
---